Synchronized Bicycle Ballet

Thread started by
CatCampion
at 02.27.12 - 1:55 pm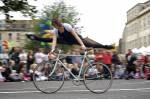 I am working with Kat Namey (of Alter-Ego Ride & Bike Talk w/ CoolAss Mike fame) and Mesha Kussman (of http://www.aqualillies.com fame) to assemble a team of bad-ass trick and tall-bike ridazz for a synchronized bicycle ballet of sorts, probably in April. Right now, I am compiling a list of interested ridazz. Would you like to join us? Simply reply here with your name, contact info and what trick-riding skills you possess and/or would be willing to learn. Kat will be offering a workshop to train/rehearse for the shot. Both tall and "vertically challenged" bikes encouraged.
In the long-run, this could become a work possibility, seeing how successful Mesha has been with making a business of her synchronized swimming team - making appearances in TV shows, commercials & music videos; at celebrity birthday parties, wedding receptions, & posh Beverly Hills hotels; festivals, fundraisers, etc.
Check out their amazingness here: http://www.youtube.com/Aqualillies
Imagine if we combined the two into one big dancing-bicycle filled pool-party! The possibilities are endless...
But, I digress. We are also very much in need of a great video editor, and a small crew of production folk to help us on the day of our first shoot. Again, look at the stuff Mesha has shot to understand what a professional team we have assembled here - all volunteering our time for this potentially beautiful project. Join us!
Hearts,
MamaCat Campion
(Email me directly if you have questions: cat (at) catherinecampion.com )
reply
I would be interested. Kat knows me. I ride a large-wheeled unicycle at many night rides. I am eye-to-eye with most standard (double-framed) tallbikers as my head is 8' in the air.
Also great at riding in close quarters with other wheeled persons :)
Decades on standard sized trick unicycles too. Proficiencies include pirouette's, 1-footed riding and etc. Can juggle (only 3 balls) while riding, but never circused or clowned...lol
And I spied another gentleman at LACM the other night that had MAAD skills at freestyle bmx that might be worth reaching.
You can reach me at DancesOnH2O (at) gee mail dot com if you think I would be of value.
-David

DancesOnH2O
02.28.12 - 12:16 am
reply
David, we would certainly be thrilled to have a cyclist of your (unusual) caliber. We'll keep compiling interested names here, then contact everyone when we're ready to start training/rehearsing/shooting.
Besitos,
MamaCat

CatCampion
responding to a
comment
by DancesOnH2O
02.28.12 - 6:07 pm
reply