Burbank Bike Kitchen!!!

Thread started by
Roadblock
at 06.11.12 - 12:57 pm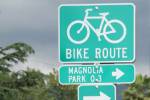 The city of Burbank has opened up a space for kids and youth to wrench and work on bike. Our very own is in charge of this program and it's starting to take off. So much so that they need more volunteers... Anyone who lives near or in the city of Burbank would be great candidates but don't hesitate if you are able to come from further away.
Email CWilkerson@ci.burbank.ca.us if you are interested!
reply